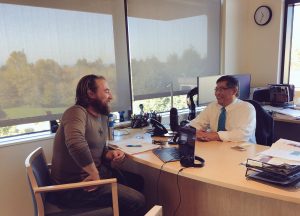 Well hello! There's a couple reason's I'm pretty stoked right now. One is that this is the 10th episode of the podcast and the other is that I had the pleasure of talking with the president of our college Mark Mitsui to help mark this milestone in the program.
There were a number of questions I was curious to ask and I appreciated how gracious Mark was with sharing some stories and in general having a great conversation with me. We explored how he got to where he is today, the valuable experiences he had working in the Obama administration for the U.S Department of Education, his journey to Bonn, Germany for the C.O.P 23 climate conference last year. We also talked about how sustainability can be incorporated into the YESS to Equitable Student Success, Affordable Housing, a bit on food insecurity, and perhaps most encouraging is the work he's helping with in regard to the Pathways to Opportunity, which is an initiative that is working towards making Community College more accessible to everyone.
We covered a lot of ground in this conversation and I really appreciated that the president of this college, Mark Mitsui, was willing to sit down and share some of his story and perspectives. It was also nice to here him share his respect and gratitude for all the work that has taken place at PCC by students, staff and faculty who have helped to make this such a notable higher education institution in the field of sustainability. We touched on some systemic issues and I think that is really important as we begin to take harder looks at what is in store for this planet if we continue anywhere close to the "business as usual" business we've been doing. It's challenging trying to change the systems while we're in the systems and Mark, and PCC have a big job ahead making the tough decisions for PCC that don't always benefit the often toxic systems that are at play within capitalism. Ultimately, what I hope you may have gotten from this is a chance to hear from a person who is at the top of a hierarchy within a major institution here in Oregon and to have also heard in him, words coming from just another human being on this wild journey we call life. 
A lot has to change if we are going to avoid climate catastrophe and it is abundantly clear that humans are the main force behind what consequences lay ahead for the ecology of our planet. The ecosystem and planet as a whole will work things out eventually though it is now beyond a doubt, without question, clear that we are impacting the world in profound ways and a great deal of them are not good or beneficial. May we change that and change it soon!
So much thanks to Mark Mitsui for joining the program and bringing in the 10th episode of the program. And thank you for tuning in, too!
Podcast: Play in new window | Download